MUDD MANUFACTURING COMPANY
CHICAGO, ILLINOIS
The Mudd Manufacturing Company of Chicago, Illinois was incorporated on October 9th, 1903 with a capital stock of $25,000, to manufacture metal articles.  The incorporators were listed as Frank X. Mudd, Joseph A. Mudd and O. S. Baylies.  The 1904 Chicago City Directory lists an address of 617-621 Austin Avenue in the Hansen Park district.  The initial listing included Joseph A. Mudd (President) and David O. Polin (Secretary).  Additional officers were F. X. Mudd (Vice President) and Raymond F. Mudd (Assistant Superintendent).  The foundry was located at 103 N. Oakley and employed 50 people.
Francis "Frank" Xavier Mudd and Joseph Augustine Mudd were brothers, and both were born near St Mary's College in Marion County, Kentucky.  Frank was born July 21, 1859 and Joseph was born March 6, 1861.  Their mother died shortly after Joseph's birth, and their father passed away in early 1875.  While orphaned quite young, by hard labor both accumulated sufficient money to attend St Mary's College.  Neither graduated as they had to quit school in order to work and earn a living.
Frank X. Mudd made his way working in the railroad and poultry industry.  In 1889 he moved to Chicago and formed the Live Poultry Transit Company where he served as president.  His ideas were very innovative, and several patents were issued in his name.  It was through his efforts that this industry was widely developed.  Frank X. Mudd was also a founding member of the Chicago Automobile Club and the American Automobile Association (AAA) which were formed in 1902.  He served in various capacities for both organizations including the Board of Directors and Chairman for the Touring Board.  In the early days of the self-propelled vehicle hobby, these groups were instrumental in the development of legislation, rules and regulation governing the use of automobiles.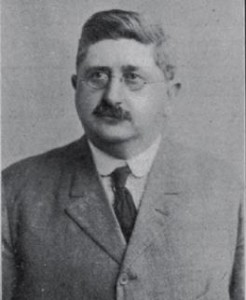 Joseph A. Mudd – cira 1909
Joseph A. Mudd recognized early on that hard labor would be his ticket to success.  Self taught in telegraphy, he entered St. Mary's College at 17 as a boarding scholar where he taught telegraphy to pay his expenses.  After two years he left to work as a telegraph operator for the Louisville and Nashville (L&N) Railroad.  During that time he opened a mercantile business to supplement his income.  In 1888 he  moved to Springfield, Kentucky where, in addition to his duties as station agent and telegraph operator for the L&N Railroad, he represented the Standard Oil Company, operated an express wagon and also worked for the Washington County Telephone Company.  His business interests included coal, lumber, and poultry. He was an enterprising businessman in Springfield, and was a large share holder in several banks and local telephone company.  In 1897 he resigned his position as Manager for the Kentucky Poultry Company to pursue other opportunities in Chicago where his brother Frank was already established.  In 1899 he moved his family, which included his wife Pamela and their then eleven children, to Chicago.
In Chicago, Joseph A. Mudd first found employment as General Manager with the Universal Calculator Company. By 1900 he moved on to the Krag Manufacturing Company where he served as Treasurer.  This company specialized in the production of letter files and loose leaf ledgers.  It is possible that this business relationship is what stimulated his interest in binders and file organization, a specialized field in which he continued to work and excel in for the next twenty years.
In 1901 Joseph A. Mudd formed the Chicago Binder & File Company, with his brother Frank X. Mudd as Vice president.  The original factory was located at 334 Dearborn Street.  Business was good and they soon outgrew this place, moving the factory in 1902 to 43 Fulton.  A year later this facility was outgrown, and on April 19th, 1904 Mr. Mudd purchased a factory from the Judkins Company in Hansen Park near the railroad.  This place was large enough to accommodate the growing Chicago Binder & File Company, and his newly formed Mudd Manufacturing Company.
While the Chicago Binder & File Company was prosperous, the manufacturing portion of the business lost money.  In the spring of 1906 the factory and foundry located at 1073 N. 56th and Grand in Hansen Park was vacated at a loss, with the businesses consolidated and moved to the 6th floor of a large manufacturing building on the corner of Canal and Washington Streets in the City of Chicago.  On May 7th, 1907 the building caught fire and the entire facility burned to the ground, with a total loss of all special equipment and machinery, tools and dies, office records, etc.
Within a week of the fire a temporary headquarters was established in the Caxton Building at 334 Dearborn Street.  A permanent headquarters was quickly secured at 135 S. Clinton, and within six months of the fire they were back in full production.
The Mudd Manufacturing Company was listed in the Chicago City Directory at the 135 S. Clinton, along with the Chicago Binder & File Company, until 1909.  It is likely that Joseph Mudd abandoned his struggling manufacturing company at that time to focus on the growing binder and file business.